Posté par sdu le 29 avril 2013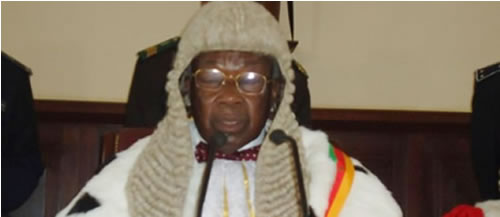 Alexis Dipanda Mouelle proclaiming results
Photo: © VKM
Results of the April 14 first ever senatorial election in Cameroon has been published with the ruling Cameroon Peoples Democratic Movement, CPDM, grabbing 56 of the 70 elected seats while the Frontline opposition party, the Social Democratic Front, SDF, got the remaining 14 seats.
The results were proclaimed this Monday April 29, in a solemn ceremony at the Supreme Court sitting in lieu of the Constitutional Council and was chaired by the Court's President, Alexis Dipanda Mouelle.
The remaining 30 Senators will be appointed by the President of the Republic in not more than 10 days and the 100 senators will meet in their first session next May 14.
See results below:
VOTER PARTICIPATION
Number of registered voters: 9,839
Number voted: 9,785
Abstention: 104
Null Vote: 255
NATIONAL RESULTS OF CONTENDERS
First: CPDM 73.12% Number of Seats won: 56
Second: SDF 17.59% Number of Seats won: 14
Third: UNDP 6.12% Number of Seats won: 0
Fourth: CDU 2.46% Number of Seats won: 0
SUMMARIZED RESULTS PER REGION
Adamawa: SDF – 53.94% UNDP – 46.06%
Centre: CPDM – 99% SDF – 1%
East: CPDM – 100% lone competitor
Far North: CPDM – 91.79% UNDP – 8.21%
Littoral: CPDM – 92.66% UNDP – 5.80%
West: SDF – 78.43% CDU – 21.17%
North: CPDM – 65.67 UNDP – 33.03% SDF – 0.32%
North West: CPDM – 52.02% SDF – 47.98%
South: CPDM – 99.29% SDF – 0.07%
South West: CPDM– 89% SDF – 19%
Publié dans Actualités nationales et internationales | Pas de Commentaire »